Equélite Golf Resort Pitch & Putt Villena
This nine-hole pitch & putt forms part of the sports complex in Villena owned by tennis player Juan Carlos Ferrero, where golf and tennis can be played all year round.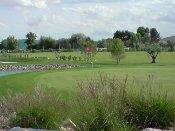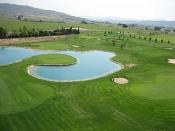 As well as a tennis star, Ferrero is also a great golf player, and this course shows how far he has progressed. Challenges around the course include two large lakes between fairways and a large number of strategically placed bunkers.
But hazards should stimulate rather than impede your game, as overcoming them is always a satisfying feeling. The 3rd hole is the course's longest, at 120 metres. One fairway bunker to the left and three protecting the green mean accuracy is needed to reach the green, which also has various drop-offs. However, the 5th hole, known as La Herradura or the Horseshoe, is where greatest accuracy is required, as the green, 86 metres away, is in the middle of a lake.
Cautious players who decide not to go for the green can aim for a strip of fairway where the ball can land safely, but the shot straight to the green is hugely satisfying, if it works. Another hole to beware is the 8th, known as the "card breaker".
Features:

Designer of the field: Francisco Guilabert
Type of grass: Calles : ray grass, festuca, agrostis / Greenes : L93
Closest airport:
El Altet (Alicante)
Rates and opening times:

Holes: 9
Bunkers: Arena blanca de sílice
Opening times: Verano: de 9.00 a 20.30 horas. Invierno: de 9.00 a 19.00 horas.
Green fees: 18 € 9 h, 25 € 18 h
Putting Green: L93-300 m2
Credit cards: Visa, Master Card
Services Club:

Pitch and putt: 9 hoyos pares 3 de 50 m a 120 m
Rental carts: 3 €
Clubs: Equipo completo, 6 €. Palos sueltos, 2 €
Practice range: Sí
Chipping area: Dos zonas de chipping area y aproach area
Lessons: Clases individuales, colectivas, adultos, niños. Escuela de Golf. Iniciación y perfeccionamineto