From Valencia to Sueca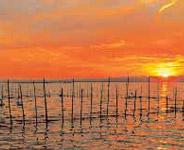 Before you start the route, take time to visit the city of Valencia. The flagshipbuildings that set the city's new style of town planning around the Ciudad de las Artes y las Ciencias are especially rewarding, as are the seafront, beaches and port. However, perhaps the most attractive part of this route is the chance to wander through the pinewoods at La Devesa del Saler. This route allows you to enjoy the exceptional beaches of the sandbar that separates the fresh water of L'Albufera from the salt water of the Mediterranean and gives you the chance to observe the dunes. The mobile dunes are closest to the sea, while the dense pinewoods cover the fixed dunes closer to the waters of L'Albufera. You will also visit the Dosser de Cullera dunes, with long unspoilt stretches of beaches used by nudists. A boat trip around L'Albufera is another high point and should be rounded off with a visit to the nature park's Racó de l'Olla Visitor Centre. The last part of the route takes you through the heart of the rice fields and the wide-open countryside between Cullera and Sueca, with the surprising silhouette of La Muntanyeta and the Ermita de Sants de la Pedra hermitage right in the centre.
Route: Valencia, Pinedo, El Saler, El Palmar, El Perellonet, El Perelló, Mareny de Sant Llorenç, Mareny de les Palmeretes, Mareny de les Barraquetes, Cullera y Sueca.
Cities nearby:
Valencia