From Culla to Benicarló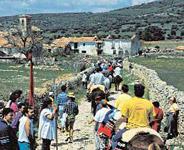 The Plaza de Càlig journey offers a plentiful variety of scenery. You can see inland area mountains scattered with farmsteads or masías as well as the bright coastal areas with their winding, remote beaches around Benicarló. You will pass villages that mark the transition between the inland areas and the coast, where plains and fertile fluvial terraces predominate and olive and almond trees prevail among the unirrigated crops. Inland, in the El Alt Maestrat region, the area is distinguished by the magical valleys and mountain ranges where crystal-clear water springs from the ground to supply the pleasantly situated spas.

Amongst the cultural heritage to be found in this area, of particular importance are the pilgrimages that the people from the surrounding villages take part in each year and that encompass most of the area's hermitages and shrines. Imposing farmsteads mark the landscape in the regions of El Alt and El Baix Maestrat. Quiet observation of the different places along the route hints at the wisdom of our forefathers as they adapted their way of life to their circumstances and exploited the resources at hand, especially stone. This indicated, as it still does, the beginning of a universal theme in these lands. The stone was used to erect houses, farms, cow sheds, stores, threshing floors, furnaces, and storm shelters.
Route: From Culla to Benicarló via Benasal, Ares del Maestre, Catí, Tírig, Sant Mateu, Cervera del Maestre and Càlig
Cities nearby:
Culla