Costa de Azahar BTT Center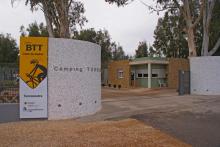 The Costa de Azahar BTT Centre is located in the village of Torreblanca (Castellón). The location of the peption centre in Camping Torrenostra is a strategic point to discover the natural parks of Desert de les Palmes, Prat de Cabanes-Torreblanca and Serra d'Irta. The landscapes, where the routes emerge, are so beautiful and they shape a different scenario open to the Mediterranean, where traditional coastal tourism is combined with the active, cultural and sports tourism by the proximity of these mountains to the coastal strip. The ten proposed itineraries invites us to discover hidden unusual corners on the coast, archaeological remains, manor houses, abandoned house farms, hermitages, watchtowers and modernist urban areas. It is a good combination of culture and nature that complements the permanent presence of the sea.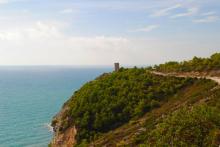 The centre BTT Costa Azahar offers the possibility of a total of ten routes, with different difficulties and with a total length of 212 km. The information points located in Peñíscola, Benicassim and Desert de les Palmes are proposed as starting points for the various routes in addition to the Camping Torrenostra. The route No. 10 called Camino del Litoral, not away from the seaside, connects the villages of Benicàssim and Peñíscola, and the Vía Verde del Mar between Benicassim and Oropesa is one of the main attractions of this route.
| Nº | Nombre | Pto. Partida | Dificultad | Distancia (Km) | Tiempo (h) | Desnivel (m) | |
| --- | --- | --- | --- | --- | --- | --- | --- |
| 1 | El Prat de Cabanes Torreblanca | Pto. acogida Torrenostra | 1 | 14,50 | 1h 15' | 48 | |
| 2 | Capicorp y el Campàs | Pto. acogida Torrenostra | 1 | 13,36 | 1h 05' | 33 | |
| 3 | Los montes costeros | Pto. acogida Torrenostra | 2 | 29,00 | 3h 15' | 342 | |
| 4 | La ermita de San Antonio | Pto. información Peñíscola | 2 | 5,82 | 0h 30' | 364 | |
| 5 | La colada del mar | Pto. información Peñíscola | 2 | 19,22 | 2h | 241 | |
| 6 | Mas del señor | Pto. información Peñíscola | 3 | 28,56 | 3h 30' | 598 | |
| 7 | El Bartolo | Pto. información Desert de les Palmes | 2 | 12,00 | 1h 10' | 494 | |
| 8 | El desierto de las Palmas | Pto. información Desert de les Palmes | 4 | 14,50 | 2h 35' | 498 | |
| 9 | La ermita de Les Santes | Pto. información Desert de les Palmes | 4 | 21,50 | 3h 30' | 823 | |
| 10 | Camino Litoral. De Benicàssim a Peñíscola | Pto. información Benicàssim | 3 | 54,00 | 5h 20' | 412 | |
Difficulty:
1 Very easy
2 Easy
3 Hard
4 Very hard
Details of interest:
Costa Azahar BTT Center Reception Point
Costa Azahar BTT Center
Camping Torrenostra
Torrenostra Beach
12596 Torreblanca (Castellón)
Phone: +34 964 425 037
Mail: campingtorrenostra@gmail.com
Web: www.campingtorrenostra.com
Facilities of the reception point:

Bicycle Rental
Washing bicycle stations
Changing rooms and showers
Accommodation and catering
Useful telephone numbers:
Tourist Info Torreblanca: +34 964 421 212
Tourist Info Peñíscola: +34 964 480 208
Tourist Info Oropesa del Mar: +34 964 312 320 / +34 964 314 134
Tourist Info Benicàssim: +34 964 300 102
Torreblanca - Torrenostra