T-Atra Ambiental
Discover the immense natural and cultural heritage housed in the province of Alicante

T-Atra Ambiental is a company devoted to environmental education and heritage interpretation, the activities of which are directed to learn from this valuable natural environment in the province of Alicante.
We have 15 years of experience in the Natural Parks of the Valencia Region and, as a result, we can provide quality visits aimed at both the general public and to groups of all kinds, adapting the trips to their needs.
Our offer includes, in addition to these routes across natural environments, the possibility to combine them into day trips together with cultural or industrial tourism trips.
Otras actividades organizadas por la empresa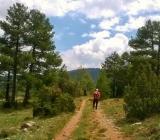 "All paths deserve to be explored, even when they do not lead anywhere". Paul Venham
The Valencia Region offers excellent infrastructure for hiking: it has over 5.000 kilometres of...
Nature: the most fascinating classroom of all
Schools or seminars in which you learn about nature-related activities through practice. They are meant for all audiences, even though many of the...