Villar Arzobispo
Towns and cities - València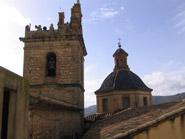 Villar del Arzobispo (municipality in the interior of the Region of Valencia) belongs to the la Serranía region. The municipality is situated at an altitude of 520 metres above sea level on the left basin of the river Turia and in the extreme north of a rolling plain, on the border of a calcareous stratum, with a landscape that alters between hills and plains. In the village one can stroll through its most typical quarter, filled with streets and houses that still conserve their charm. This is a village that is situated at the head of a region in so far as number of inhabitants and services obtaining. The economy is based principally on the mining industry and transport, services and the food and agriculture sector.
Address:

Ayuntamiento de Villar del Arzobispo
Plaza de la Iglesia, 1
46170
Villar del Arzobispo
Phone numbers:

+34 962 720 002
+34 962 720 500

Fax: +34 962 720 361
Area: La Serranía
Touristic area: València
Altitude: 588
How to get here:

50 Km. from Valencia, via the CV-35 (Valencia-Ademuz) and 50 km. from Requena, via the CV-395 (Requena-Segorbe). One can also reach the village by coach.