Towns and cities - València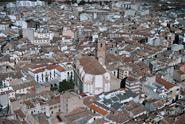 Uriel has a rich natural, cultural and gastronomic offer that turns your visit into a pleasure of all the senses. On the one hand its natural surroundings together with a characteristic climate invite you to enjoy the pure fresh air and the natural products of the area. On the other hand it is highly recommendable to go for a stroll through its old quarter populated with old houses and ancestral homes. One can do all these things after having enjoyed the exquisite wines of the town, with their own denominación de origin (D.O. - prestigious food and wine product classification), which are one of the most recognised charms of the district.
Address:

Ayuntamiento de Utiel
Plaza del Ayuntamiento, 1
46300
Utiel
Phone numbers:

+34 962 170 879
+34 962 172 378
Area: La Plana de Utiel-Requena
Touristic area: València
Altitude: 750
How to get here:
The main access route is the A-3 that links the Region of Valencia to Castilla and Madrid. There is also the N-332 towards Albacete or the N-330 that links Utiel to Teruel, Zaragoza and France.