Titaguas
Towns and cities - València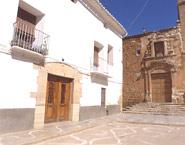 Nature surrounds Titaguas. Between the "Sierra de Javalambre" and the river Túria, the township is found at the centre of an extensive plain, conditioned by a beautiful environment from which it has learned to obtain major benefits; more than 70% of its extension is formed by Pine forests, Holm Oaks, and "Sabinas". From in amongst so much nature, the populated zone appears with its Old quarter, of great architectural importance, which converts it into an ideal place for lovers of rural tourism.
Address:

Ayuntamiento de Titaguas
Plaza de la Iglesia, 7
46178
Titaguas
Phone numbers:
Fax: +34 961 634 093
Area: La Serranía
Touristic area: València
Altitude: 832
How to get here:
Via the CV-35, direction Valencia-Ademuz.