Sot de Chera
Towns and cities - València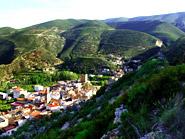 Sot de Chera is situated at 67 kilometres from the city of Valencia and 30 kilometres from Requena. The city centre is crowned by a Muslim castle built on a promontory and declared an Asset of Cultural Interest (BIC). Other elements to be highlighted from its heritage are made up of the 17th century Church of San Sebastián Mártir (Saint Sebastian the Martyr) as well as the Shrine of San Roque from the 16th century. The town is crossed by the River Reatillo, a tributary of the Turia, forming a splendid fluvial pond known as El Gruñidor. The gastronomy is typical mountain fare, made up of heavy dishes, which in the olden days helped one to overcome the long, cold days of hard work in the country.
Address:

Ayuntamiento de Sot de Chera
Avenida de Pera, 9
46168
Sot de Chera
Phone numbers:
Area: La Serranía
Touristic area: València
Altitude: 345
How to get here:

There are two main ways to reach Sot de Chera: Leave Valencia along the CV-35, or Ademz road. After approximately some 50 kilometres one comes upon a turnoff heading for Sot de Chera along the CV- 395, once travelling along this road there are only 20 kilometres separating us from Sot de Chera. Another access route, although less recommendable due to the structure of the road, is to head towards Sot de Chera along the A3. When reaching Requena one reaches an exit indicating the CV- 395 in the direction of Chera and Villar del Arzobispo. This stretch lasts for approximately some 30 kilometres.