Paterna
Towns and cities - València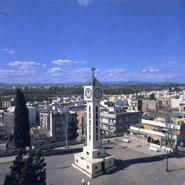 On the left-hand bank of the Turia, now embraced by the metropolitan area of Valencia, Paterna has maintained and combined its customs with the constant changes that modern life imposes. Covered, largely, by agricultural land, the town enjoys the tranquillity and traditions of a simple life. In spite of changes to its urban landscape, progress has created large cultural and industrial spaces, which the city needed in order to show two harmonic, complemented yet differentiated faces.
Address:

Ayuntamiento de Paterna
Plaza Ingeniero Castell, 1
46980
Paterna
Phone numbers:
Area: L'Horta
Touristic area: València
Altitude: 90
How to get here:

Metro, Line 1, stops: Campamento, Paterna, Santa Rita, La Cañada and la Vallesa. Line 4, stops: Mas del Rosari, La Coma and Terramelar-Lloma Llarga. By bus: metrobus Line 140.