Llutxent
Towns and cities - València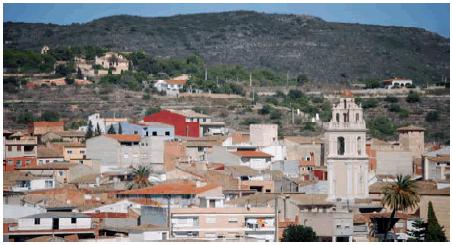 A town in the Vall d'Albaida region, with a population of 2452, located in the southern Valencia Region, specifically 80 km away from the capital and 110 km away from Alicante.
The municipal district covers a surface of 39,1 kilometres and it borders Pinet to the North, Gandia, Rótova, Ador and Almiserà to the East, Benicolet, Castelló de Rugat and Pobla del Duc to the south, and Quatretonda to the West.
The conquest of James I and the arrival of catalan-aragonese troops to the land "beyond the Júcar" gave rise to the first written references to Llutxent, which are related to the great Muslim revolt of 1247-1248. Thus, in the spring of 1248, the king was besieging the castle of Xio, and that was when he donated the lands of the present-day municipalities of Llutxent and Quatretonda to the Croat conquerors, establishing Christian settlers in both towns, whilst the remaining alquerias remained in the hands of the local Muslim population.
In 1276, in the midst of the A el-Azraq revolt, the town of Llutxent was razed. King James, who was on his last legs, dispatched troops to put it down, but they were defeated. The following year, the young king Peter II the Great would grant the territories to the Italian nobleman Joan de Próxita, thus giving rise to the barony of Llutxent.
The Próxita family, as lords of Llutxent, initiated the construction of the palace castle. In 1487, the fief was transferred to the Maza family, and it changed hands once more in 1729, when it was granted to the marquis of Dos Aguas de Busot.
Llutxent and its region have participated in other feats of arms apart from the early enagements of the Reconquista. During the Union Wars (1348-49) it witnessed the struggle between royalists and unionists, and the town was assaulted by the brothers of Játiva during the Revolt of the Brotherhoods (1522), when the defenders resisted within the fortified palace. It was also occupied by French troops during the Peninsular War, and it was also harassed by Carlist raiding parties during the late 19th century.
Address:

Ayuntamiento de Llutxent
C/ San Domingo, 18
46838
Llutxent
Phone numbers:

+34 962 294 001
+34 962 294 061

Fax: +34 962 294 573
Area: La Vall d'Albaida
Touristic area: València