Bocairent
Towns and cities - València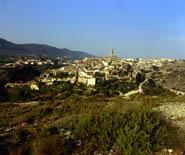 The Muslims called the city Bekirén, because of the dominant architectural style in the town which used the form of beehives. Today Bocairent continues to project a peculiar image, its streets are seeped in centuries of history, the inhabitants have a commendable respect for their traditions and it is located in an enviable environment, with the Sierra Mariola as its principal neighbour. A sculpture welcomes visitors to the locality, an image of a man with a blanket over his shoulders, a tradition still held by the people of Bekirén. Steep slopes, abundant vegetation, and the sources of two rivers, the Vinalopó and the Clariano, have marked the structure of the towns' nucleus, which has been moulded respecting the natural environment. Many of the houses and some of its monuments, even modern ones, are excavated from the surrounding rock.
Address:

Ayuntamiento de Bocairent
Plaza del Ayuntamiento, 2
46880
Bocairent
Phone numbers:
Area: La Vall d'Albaida
Touristic area: València
Altitude: 660
How to get here:

From the N-340 take the N-430 and then the CV - 81 from Ontinyent to Bocairent.