Towns and cities - Alicante Costa Blanca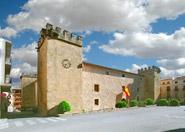 The town of Onil is in the province of Alicante. It is part of the district of Foia de Castalla and is situated in the North of the province below the sierra of the same name, the last foothills of Sierra de Mariola. The population stretches over 4,899 hectares. The town of Onil is 38 kilometres from the capital, Alicante. This beautiful town and its natural surroundings offer lovers of inland rural tourism all kinds of pleasures and peace and quiet.
Address:

Ayuntamiento de Onil
Carrer Barberán y Collar, 15
03430
Onil
Phone numbers:
Fax: +34 965 564 131
Area: Foia de Castalla. L'Alcoià
Touristic area: Alicante Costa Blanca
Altitude: 697
How to get here:

Easily accessible by road. Along the N-330 Madrid trunk road taking the Villena exit or along the Sax trunk road which links up with the central trunk road, the A-36 Alicante-San Vicente-Onil-Alcoy. One can also take the CV-806 Onil-Ibi. Other routes include the Onil-Baeres road or the Onil-Biar-Villena road. The closest train stations are those of Villena and Alicante. There is also a mountain bus service running to Onil. The nearest airport is that of Altet in Alicante.