Muro de Alcoy
Towns and cities - Alicante Costa Blanca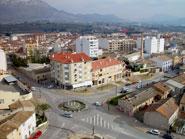 Between the Rivers Serpis and Agres, appears Muro de Alcoy. A city that is historically linked to others and that, finally, freed itself in order to rise up as a true point of interest that enjoys the kindnesses of Sierra Mariola, as a neighbour par excellence. Its history goes back to the times of the Moors, although it was populated in Prehistoric times and, little by little, Muro de Alcoy has raised itself up as a location chosen by many as a place of residence, amongst the almond, fruit and pine trees.
Address:

Ayuntamiento de Muro de Alcoy
Placeta Molina, 4
03830
Muro de Alcoy
Phone numbers:
Area: El Comtat
Touristic area: Alicante Costa Blanca
Altitude: 399
How to get here:
The inland route of the N-340 connecting Alicante and Valencia has direct access to Muro de Alcoy.