Burriana
Towns and cities - Castellón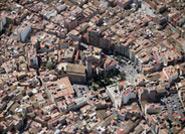 Burriana is a town that faces the open sea; a coastal town that is seen not only as a tourist attraction and a place to have a second home for the people who live in the region of La Plana, but also a perfect place for all those who wish to enjoy the scenery, beaches, culture and the friendly nature of the people. Its exceptional location next to the sea means it has enchantingly beautiful beaches, a fishing port, a splendid Sailing Club and a Sailing School.
Address:

Ayuntamiento de Burriana
Plaza Mayor, 1
12530
Burriana
Phone numbers:
Fax: +34 964 510 955
Area: La Plana Baixa
Touristic area: Castellón
Altitude: 12
How to get here:

Junction exit 48 on the A-7 motorway goes directly to Burriana, as does the National Road 340 and the regional roads C-225, C-236, C-223, and C-701. Burriana also has its own railway station.