Fira d'Agost places Xativa on the map from 1250
Publishing date 1/08/2016
From the 14th to 20th of August, Xativa becomes the holiday epicenter with attractions, shopping stalls, traditional shows, concerts and cultural activities.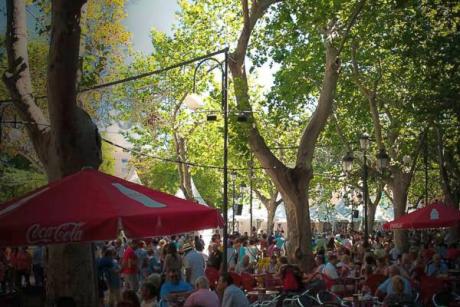 From the 14th to the 20th of August, the streets of Xativa will be full of people, with all kinds of shows and good atmosphere with the celebration of the Fira d'Agost, held in the Valencian town with the blessing of Jaume I since 1250. Almost nothing. During these days you can enjoy fairground rides, shopping stops and cultural activities. Although the presence of cattle, original occasion of the fair, has gone into the background, is however another attraction near the shooting contest and drag, held since the 70s; the night singing 'les albaes', the motorcycling trophy in an urban circuit, the cycle of children's theater or the Cançó Festival.
In addition, during the Fira d'Agost, recognize to be a National Touristic Interest, held the second edition of the music festival Al Ras 2016 in the auditorium of Peace Park. The headliners for this edition will be Rosario Flores, Celtas Cortos, La Raíz Zoo, Mago de Oz, Polock, Dinero, Funkiwis and Sva-ters. Also local groups will be performing such as Ghost Transmission, Testarrosa, Siberian Wolves, The Soda Club, Juglares de Fuego, Hollow, Hairdryers and DJ Felix. Programming of the Fira d'Agost is extensive and for all audiences. So do not think it twice because it is one of the largest and oldest fairs in the world.

Xativa is the birthplace of painter José Ribera, 'El Españoleto' and alzó of two popes of the Borja dynasty, it has a fascinating history and a vast cultural heritage. In addition, it is surrounded by dreamy natural landscape. As if that were not enough, it is one of the places that sitting at the table of a restaurant is a real experience: 'arròs al forn' 'arròs caldós' 'arròs in fesols i naps', 'blanquet arròs' and, of course , the paella, which in Xátiva is cooked with a lot of meat and vegetables.