Villena among fairies, giants and bigheads
Publishing date 3/03/2014
Fairies, bards, jugglers, Gigantes and Cabezudos (giants and bigheads) meet in the narrow streets of the Rabal, the Moorish neighbourhood of Villena, as the town returns to the Middle Ages this weekend (three days). If you want to enjoy the past, come and pay a visit to El Rabal.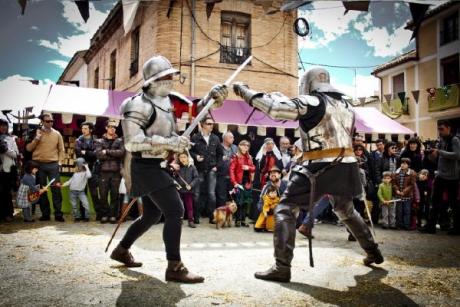 The neighbourhood of Rabal in Villena will host its Medieval Festivities from March 7 to 9. El Rabal is an Arabic neighbourhood with narrow streets and old houses, where musicians, jugglers, falconers, magicians, archers, fire breathers, chess masters, street theatres and endless free activities meet.
Among these events, the Medieval Weddings stand out: this year, several couples will be married at the foot of the Atalaya castle, a unique event in Europe, with the bride and groom and the guests dressed in medieval attire.
Another magical moment is the Torchlight Parade, where hundreds of people will march through the streets of the neighbourhood at night to the beating of drums, ending with a Celtic music concert by the castle walls.
This grand event will take place around the Medieval Market of Villena, which will be celebrating its 13th anniversary in 2014, with over 160 stalls from all of Spain. All kinds of attractive goods are on sale: food stalls with exquisite meats, varied arts and crafts such as goldsmithing, decoration, jewellery, weapons, ceramics and, of course, traditional taverns where you can feel transported back in time.
The Medieval fairs are organized by the residents of the Rabal neighbourhood in order to promote the historical centre of Villena, which has been declared to be a Place of Cultural Relevance. This sets them apart from all other Medieval fairs, as the residents themselves dress up and decorate their houses and streets in authentic period style.
Don't hesitate, Villena is waiting for you with open arms!