The Vall de Gallinera, a hidden gem in Alicante
Publishing date 11/10/2016
The Recorrido de los Ocho Pueblos (Trail of the Eight Villages) runs through some of the landscapes with the greatest biodiversity in the Valencia Region.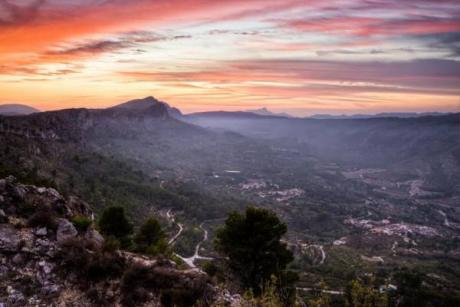 The Vall de Gallinera is a veritable dreamland. This town is not a single town, but actually eight hamlets set against the backdrop of a perfect and symmetrical valley, eight jewels of morisco (Moors who received Christian baptism) origin, whose total population is less than 700 inhabitants. The Marina Alta region in Alicante has guarded this secret since time immemorial: a trail that leaves visitors speechless due to the beauty of its landscapes and the warmth of its people. The Trail of the Eight Villages, as it is known, starts at the fountain of La Mata de Benirrama and ends at the fountain of La Mata de Benisili. Between these two hamlets are Benialí, Benissivà, Benitaia, La Carroja, Alpatró and Llombai (not to be confused with the Llombai in the province of Valencia; the hamlet in Alicante is uninhabited).

The rural trails that link all the hamlets form a 16-kilometre trail travelling between natural fountains spread across the district, forming a veritable green promenade. The Vall de Gallinera is a botanical garden owing to the high yearly rainfalls and the micro-climates that co-exist in the area. It is one of the areas in the Valencia Region with the highest biodiversity. Its holm oak groves, pine groves, bushes and rock vegetation is worthy of note, as is its fauna, with numerous species of mammals, birds, reptiles and amphibians. It is common to see royal eagles gliding between the mountain crests on the lookout for unsuspecting prey.

Its history stretches back to the middle Palaeolithic period, when the first human settlements are recorded. Among its prehistoric legacy are the numerous samples of cave art which have been declared World Heritage sites by UNESCO. The Iberians left their mark on the town of the 'Xarpolar', and Muslim culture left the two castles that crown the entrances to the valley: on the inland side, the castle of Benissili or Alcalà, and on the coast, the castle of Benirrama or Gallinera.

Although its is highly recommendable to visit the Vall in June to enjoy the cherry blossoms, the Vall de Gallinera and its eight hamlets are waiting for you year-round to seduce you for life.