Valencia Trinidad Alfonso Half Marathon, a record race
Publishing date 6/10/2015
On October 18, the 25th edition of the Valencia Trinidad Alfonso Half Marathon arrives in the city. This is one of the main dates of the Valencia Running City campaign, which consolidates and extends the wide acceptance and strong reputation of the city, both at a national and international level.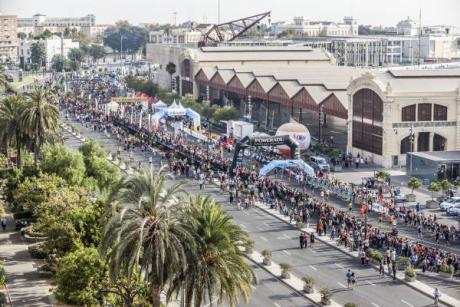 The Valencia Trinidad Alfonso Half Marathonis a record race, due both to the continued growing of runners (800 foreign runners from 41 countries), to the records favored by the privileged altimetry, and to the recognition it enjoys among the main entities that regulate and promote the practice of athletics.
Along with the race, a series of parallel activities such as the fair of the corridor will be held in one of the sheds of the port of Valencia; animation points will be distributed throughout the circuit to cheer the runners and there will be a full solidarity and activities scheme to increase the public awareness, thus complementing the experience of runners and rooting the race in the city, to originate a greater degree of participation of its resident population. Go for it, and run to make history!