Fallas de Valencia, the fire that never ends
Publishing date 9/03/2015
The city of Valencia is already immersed in its festivals: Las Fallas. The fire festival par excellence is a prelude to the spring season which invades and transforms the city of Valencia until 19 març, day of the cremà.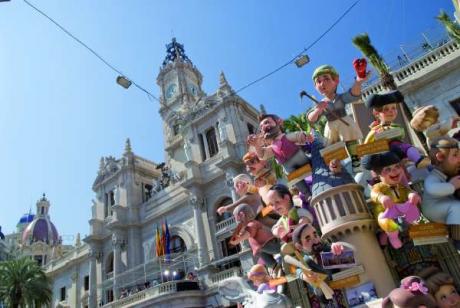 The people from Valencia live Fallas tothe maximum, since it is a mayor festivity in the city. At the beginning of the spring season, the bad and negative stuff from the previous year is burnt during this celebration. This way, the inhabitants of the city make room for the good things to come. The origin of the festival is on the street. Many, many years ago, carpenters and other guilders used to burn old junk and wooden slat at the doors of their workshops, near the parots, a kind of torches that were lit during the winter that over time became the current ninots. And precisely the ninot, a cardboard satiric doll, give meaning to Fallas thanks to the message they transmit. On the night of March the 15th, the plantà takes place, a time when the Fallas commissioners and craftsmen work tirelessly to assemble the whole effigy.

The mascletàs and other short of fireworks are then heard and illuminate the Valencian sky until March the 19th. The Alameda is the place from where the fireworks are released and reach their peak early on the 18th at the Nit del Foc (Fire Night), a fireworks show unique in the world.

The people participating in the festival, the falleras and falleros, are the protagonists of another important event: the Offering to the Virgin of the Helpless (la Virgen de los Desamparados). All the Fallas commissions parade from their headquarters to the Plaza de la Virgen, where an impressive mantle of the patron saint of the city is made of flower bouquets given by the falleras.

But, like everything else, good things also come to an end. On March the 19th, the Fallas effigies are burnt: the kids' versions on the first place, then the big ones. The burning of the cardboard monuments, called cremà, starts at ten o'clock at night, when the small monuments are burned. Two hours later, the flames devour one by one the rest of the Fallas. The Falla of the Town Hall Square is the last one, and its huge pile is what makes each year the end of the Festival, although it also means the beginning of the following one.