Edible Archeology, the art of Júlio Quaresma in the IVAM
Publishing date 8/12/2014
Edible Archeology is an exhibition by Júlio Quaresma showing paintings, installations and videos of the artist in the Gallery 7 at the Valencia Institute of Modern Art (IVAM). Come and be surprised by a complete artist. The exhibition is opened until January the 6th.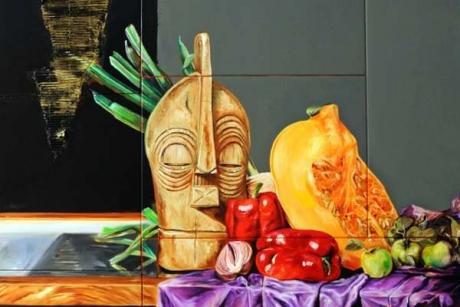 The works, 16 paintings, four installations and videos of Edible Archeology, reflect a particular view of still lifes. The paintings of Quaresma are full of intimacy, reflection on the closeness of things and a look to domestic life. But they contain also certain theatricality in the composition of the elements and the dynamics of the format itself.

His imposing still lifes give a special role, together with meat or vegetables, to masks of civilizations that coexist or collide. They are shown as previously positioned to be painted, placed on tables or shelves, in order to convey a choice of items selected by the attractiveness that the artist discovers in them, both in the items themselves and in its location within a purely creative composition.

Júlio Quaresma (Lunda, Angola 1958) is an artist and architect who, through various media and techniques (video, installation, performance, painting or sculpture) has expressed an awareness of social problems "without falling in the propaganda discourse or forgetting the importance of producing an aesthetic experience" as Fernando Castro, curator of the exhibition, explains.