Corpus Christi, a holiday about the Valencian society
Publishing date 19/05/2016
From 26th to 29th of May, the streets of Valencia and Ciutat Vella are decorated for one of the most beautiful celebrations in Spain.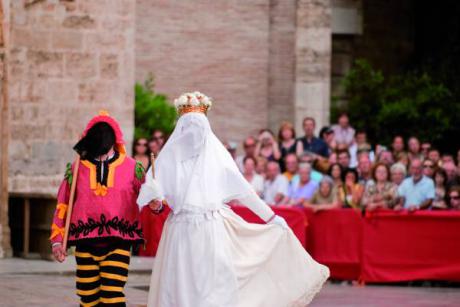 Beyond the religious meaning, the feast of Corpus Christi in Valencia is a celebration that speaks directly about the Valencian society, its merry nature and the importance of symbols in this region. The origin of this festivity is in 1355, and until the 19th century it was considered the most important holiday of the city. Today, thanks to the work of Amics del Corpus association of the City of Valencia, the celebration is regaining the vitality of past centuries.

From 26th to 29th of May the streets of Valencia and Ciutat Vella are decorated for most beautiful celebration in Spain. You can enjoy the Corpus procession, the Procession of the Convite, the "Translado de las Rocas" (the path to the "Plaza de la Virgen" of the triumphal cars, representing the biblical mysteries) and traditional dances. This festivity is always held 60 days after Easter Sunday.

If you want to delve into the origins and mysteries of this city you cannot miss this celebration, filling with a festive atmosphere the historic center of Valencia. Discover the hidden city, which does not appear in the guides. The old town of Valencia, one of the largest in Europe, will dress with flowers the facades and windows, and a different Valencia will appear, a city that can only be seen during those four days of magic, color and dreams.
Fotos: Antonio Cortés