Burnt ninots, saved ninots
Publishing date 3/03/2014
Only two ninots (dolls in humanoid form) in the Valencian fallas out of a total of almost eight hundred are saved from the flames on Saint Joseph's day. Only two, the best two, two ninots that will live on in the Museo Fallero. Come to Nuevo Centro to cast your vote, their future is in your hands.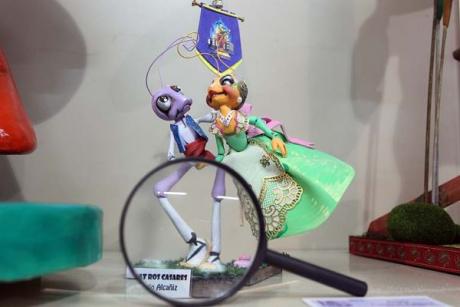 The Ninot Exposition, set up in the square of Nuevo Centro in Valencia, hosts a display of over 750 ninots up to March 14. The verdict on which ninots will be saved will be known on March 15, one from the large fallas and another from the children's category.

All of the ninots indultats (pardoned Ninots) belong to the Museo Fallero (Falla Museum), which hosts a collection of saved statues throughout history, and which is precisely the museum in which you can discover the evolution of the building materials used to construct fallas: wax, papier mâché, polyester or polystyrene.

The first Ninot Exposition was held in 1934, and, since then, one of the exposed figures was chosen by a popular vote to be freed from the flames during the cremà on March 19. That year, the Iaia i Neta group by Vicente Bendito and the Plaza del Mercado (Marketplace) commission was the first officially pardoned group. The first exposition in which children's fallas were displayed was held in 1963, and the pardoned group was Pinocho i Gepetto, by Josep Fabra from the Falla San Vicente-Periodista Azzati.

The Exposition space has changed over time The first place where it was held was the Central Market. Followed by the Fish Market, where it was held until 1996. It returned to the Central Market in 1997, and it was held in the Mercado de Ruzafa from 2000 to 2003. Due to its size, it has been held on the square at Nuevo Centro since 2004.

On March 14 and 15, the commissions will withdraw their ninots and the falleros (Makers of Fallas) return them to the monuments to which they belong in a parade.