10 years of "The Marina" of València
Publishing date 7/09/2017
Happy birthday! The Marine of València has come to the tenth anniversary as a meeting point between the city and the sea, the innovation and the history. Do not miss the activities which have been prepared to celebrate it.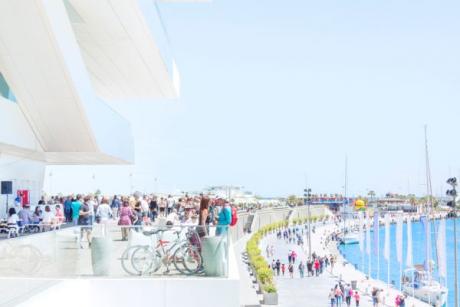 La Marina de València is a space where creativity, culture, professional training and entrepreneurship melt with nautical activities, sport, tourism and gastronomy. Indeed, we are inside a special place which draws the horizon of the capital of the Turia, one of the more modern marine spaces in the Mediterranean.

To celebrate this anniversary, the Consortium València 2007 will open the maritime front to the citizenship with a series of nautical, gastronomic and cultural activities to enjoy La Marina during the weekend of 16th and 17th September.

Regarding the nautical activities, they will develop a career of oar in the channel, taz boat races and paddle-surf, a chase-boat race, paddle-yoga, as well as the Championship of Spain of Radio Control Boats and a day of open doors by the Town School of Sail, who will also organise the event devoted to the women "La mar de dones".

Traditions will also have their time with an exhibition of the fishing modality "car valencià", a contest of deep sea fishing, and an exhibition of sail llatina (considered Well of Cultural Interest) in the inner harbour. Do not miss the day of cleaning of marine bottoms which will gather up to 300 divers!

In the gastronomic aspect, we will attend to a Fair de la Tapa and "Cuina to bord", a gastronomic contest which will take place on board of different boat-crafts. Really tempting.

The program will complete with the Ist Contest of Photography "La Marina of València" and other cultural events like concerts for all the family or an exhibition of roller-skating.
València is waiting for you. "La Marina" is the place where you will want to anchor.