The Lagoons of la Mata and Torrevieja, a paradise of freshwater and sea
Publishing date 25/01/2016
Sun and sky, saltwater, hues of pink and green ... This is what you get at the Lagoons of La Mata and Torrevieja, a protected nature reserve consisting of two saltwater lagoons separated by an anticline, known as El Chaparral. The first lagoon is the rose-coloured one, located in the Torrevieja salt flats, in contrast to the deep emerald-coloured La Mata lagoon. Come and discover this unique aquatic paradise of nature, life and biodiversity.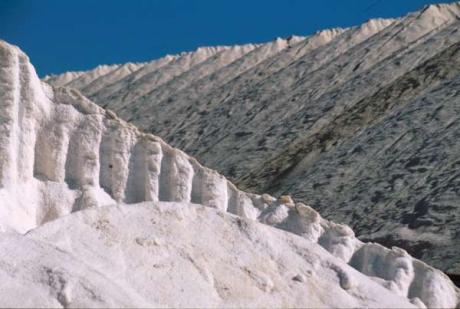 The Lagoons of La Mata and Torrevieja Interpretation Centre is the starting point for all trips and excursions, and for getting in the know about this particular spot. For those that love relaxed walks, nature and fresh air, this park really is the perfect option.
The Lagoons of La Mata and Torrevieja, in the Vega Baja del Segura region, fall partly under the administrative area of Guardamar del Segura, Torrevieja, Los Montesinos and Rojales. Together with the natural parks of El Hondo and Salinas de Santa Pola, they form a triangle of wetlands, which are crucial to the development of the lifecycles of many species that use it for migration, nesting and hibernation purposes.

The park consists of two lagoons separated together by an anticline known as El Chaparral. A channel connects the two depressions, which are artificially supplied with seawater through two other channels known as theAcequiones, forming a salt exploitation area.

The park covers a total area of ​​3700 hectares; 2100 of which are covered with water while the remainder consists of the surrounding grasslands. The Torrevieja lagoon covers 1400 hectares and La Mata covers 700. A group of intermittent system watercourses and ravines drain into this basin, especially into the Torrevieja lagoon, due to its proximity to the Sierra de San Miguel de Salinas.

The lagoons of La Mata and Torrevieja were already in use in 1321, when they were ceded to the Town of Orihuela by the Crown, on the condition that they would not be transferred. Later in 1389, the Crown itself conceded the possibility of transforming the Torrevieja lagoon to the very same town, for the purposes of exploiting the fisheries. However, the construction of the Acequión connecting it to the sea took almost a century, and the infeasibility of the project was confirmed in 1482, when it transpired that the fish would not enter the lagoon due to the high salinity of the water. Orihuela renounced the royal donation for this reason.

A Royal Order in 1759 declared that the area occupied by both lagoons was to be reverted to State property. A few years later, the first salt extraction tests were conducted at La Mata lagoon. Salt exploitation began once the quality of the product had been confirmed, and it continues to this day.