Titaguas, a night by candlelight
Publishing date 23/07/2014
At nightfall on Saturday, August 2nd, a thousand candles will light up the houses and streets of Titaguas, and several concerts will flood the city with music. If you enjoy being surrounded by beauty or you are an incurable romantic, discover Titaguas by candlelight.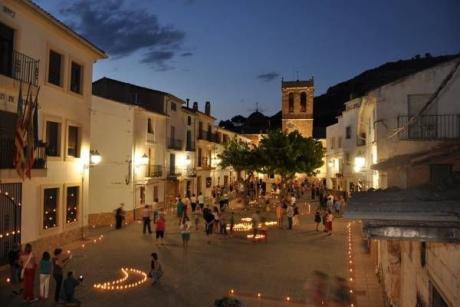 Titaguas will be celebrating its night of candles for the second time on the first saturday of August. This year, the streets in the town centre will be lit up with over twelve thousand candles, thanks to the collaboration of the locals both in the placement, lighting and later cleaning up of the candles.
In this great cultural and touristic event, a number of activities will be carried out throughout the day.
During the morning, the II Titaguas Speed Painting Contest will be held, in which we hope that there will be even more artists than last year, when 35 participated.
During the morning and the afternoon, you will be able to discover the town thanks to activities such as the Titaguas Oculto guided tour, horseback tours, a multi-sports circuit and a segway track... are you looking for something more peaceful? The Museum has two expositions, one on the children's school in the 1950s and another on the winner of last year's speed painting contest, Héctor Dols. A number of 3D movies will also be screened.
In order to save energy for the night, you might as well also participate in the "Ruta del Tapeo" (Tapas Route) organised by the bars of Titaguas.
At nightfall, the candles will be lit and the streetlights switched off, giving way to a unique scenery in which mini Jazz, Pop, classical and popular music concerts will be held. The musicians are volunteers and are both from Titagua and from other towns. Furthermore, you may also see photographs projected on the houses and enjoy the night sky through the telescope in the observatory.
All in all, the "Night of Candles" is and will remain a point of reference in the Valencia Region, a unique event that has already taken root in the heart of the locals, to which we hope thousands will flock once again this year. It is a great opportunity to discover everything Titaguas has to offer .