Titaguas and candlelight
Publishing date 21/07/2016
Titaguas starts the countdown for the fourth edition of the Night of Candles 2016. Mini-concerts, workshops and activities for all ages complete the program on the next July 30th, in the town of Serrania in Valencia.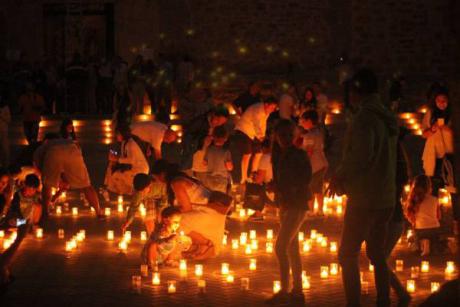 Titaguas hosts the concluding act of an year full of magic and fun events, in the 30th of July. The Night of Sails is one of the great attractions of the region in recent summers and from the City Hall of the town, they have already started the countdown to the preparations for this party where the important thing is "to connect with the charm a special night "

A day that you will have activities from early in the morning. From 11:00 h. children and adults can participate in various activities and workshops, such as horseback riding, 3D Universe, Kangoo Jumps, playing with dinosaurs, multisport, mojiganga workshop, wine tasting, segway, urban route and a spectacular dance Lindy Hop.

A full program of activities for all types of audiences and ages, planned especilly for those who want to spend a family day, and, of course, during the evening oreaoarations for an extraordinary night will start. At 19:00 h. will start the preparation and placement of the thousands of candles that hour and a half later, thr streets and corners of Titaguas will turn in a celestial oil paint. The fire will be the frame of live music and mini-concerts that will start at 22:30 h. with nine different musical proposals, from ethnomusic, classical, minimalist, jazz or pop rock.

A "magical" night that this year is supported by the nomination of Titaguas to the awards 'Tourisme Comunita Valenciana' in the category 'Sustainable Tourism'. To meet the magic: the next 30th of July.