Countdown to the 300 Millas A3 Moraira Trofeo Grefusa 2016
Publishing date 14/01/2016
The month of January means the beginning of a new year and also the beginning of a new sailing season. Every year the Club Náutico Moraira starts the regattas in Valencia Region and it does so with one of the most emblematic yacht races ―the 300 Millas A3. In the current edition, the regatta will, once again, have the support from Grefusa, the Valencian company that has been giving the name to the race for many years due to the fact of being one of its main sponsors.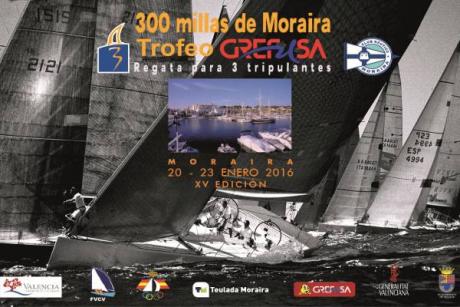 The 300 Millas A3-Trofeo Grefusa are held with an ORC compensation system and have some particular and specific features that make them unique. For example, they only allow the presence of three members in the crew of the boat and, in Moraira, the variety of lengths makes it difficult for some boats to sail, especially for those bigger boats, though sometimes the shorter ones do also find themselves in trouble due to the different conditions in the race. Another interesting feature is the fact that this race is one of the few races, if not the only one, where cash prizes are given apart from the trophy, which has an exclusive design and is awarded during a ceremony at the club a week after.

Do not miss this event, which takes place on the 20th of January and is organized by Club Náutic Moraira, and follow its progress. 300 miles during a time of the year when it is impossible to predict the weather conditions, which could go from calm water to windy storms and harsh weather conditions. This is the main reason why many boats have to leave the race during the first miles or by the mid of the race ―as we can observe in the final classification. Come to Teulada Moraira and enjoy. We are sure you will want to come back!