Clash of titans at the 300 miles with a crew of three (300 millas a 3) regatta in Moraira
Publishing date 20/01/2014
Day 22. Hour 12. This is the moment, the starting signal for the thirteenth edition of 300 Millas a 3 regatta in Moraira, which sets sail from the Moraira Nautical Club, heading towards the island of Isla Grosa in Murcia and the Pitiusas. Over twenty ships with a minimum length of 9 meters and a crew of three will race in one of the most challenging regattas in the Valencia Region. The adventure begins!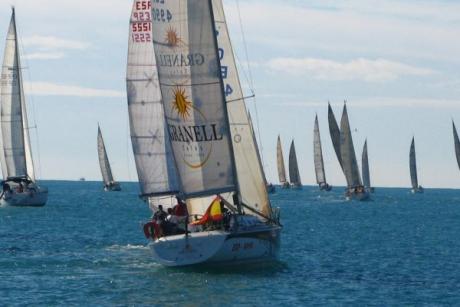 At the 300 millas a 3 regatta in Moraira, Grefusa Trophy, history is being made in the Mediterranean. The official start of the regatta is January 22, and a participation of up to 30 ships is expected.
The regatta will begin on the 22nd, at midday. The path established by the Organising Committee begins near the Moraira Nautical Club, at the beacon buoy, if the weather conditions allow it, heading towards the first lap in Isla Grosa, in Murcia. After this first hurdle, the fleet will head towards the Balearic Islands, specifically towards the Pitiusas, passing Formentera on port, followed by the island of Ibiza. At that point, the fleet sets course towards Moraira.
According to protocol, the regatta office will open on January 20, after which the participants will be toasted with a wine of honour at a reception on the following day. On the day of the regatta, the 22nd, the captains will hold a meeting before the regatta. The regatta will start at 12 if the weather is favourable. The first, second and third prizes vary between three thousand and a thousand euros.
If you are keen on sailing, come to Moraira and enjoy the start of an exciting regatta suited only to the bravest of seafarers.
http://www.cnmoraira.com/