Sant Mateu in the autumn: walks, culture and flavours
Publishing date 30/09/2013
In autumn, the interior landscape of Castellón is transformed; the colours change and the lower temperatures invite you to take long walks around its villages and countryside and try some of the delicious local food. This week we invite you to visit Sant Mateu, a medieval town 65 kilometres north of the city of Castellón.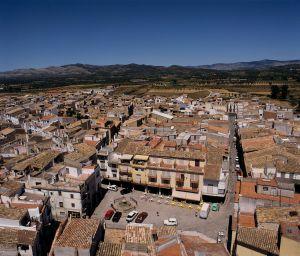 Sant Mateu's excellent position makes it a unique place to enjoy all the charms of the Maestrat and Els Ports regions. A walk round this attractive town reveals its historic importance and explores the history of the Order of Montesa, Pope Luna, the Cathar Guillaume Bélibaste, Vicente Ferrer's visits, the Germanías artisan guilds and many more historic events and facts.

During your visit you can marvel at beautiful Maestrat gothic architecture, the delightful arcaded 14th century Plaza Mayor with the Fuente del Ángel fountain, plus the Borrull palace, the Archipriestal church and the Villores palace, as well as other fascinating monuments.
Only 2.5 kilometres from Sant Mateu, standing on top of a mountain, is the sanctuary of Mare de Déu dels Àngels, with its lovely church, adjoining guest house and panoramic views over Sant Mateu and the Maestrat countryside.
Plus, Sant Mateu will be holding its 10th "Jornadas Gastronómicas" food event all through October. For only 20 euros you can try mouth-watering dishes made from traditional Maestrat recipes in restaurants around the town.
Give your palate a free rein this autumn in Sant Mateu!
More information