The tapa is the queen of Puçol
Publishing date 31/07/2017
From 1st to 10th September, Puçol celebrates the 7th edition of the Route of theTapa. Who does not enjoy a tapa made of quality ingredients? This small and delicious bite will make you smile. How appetizing!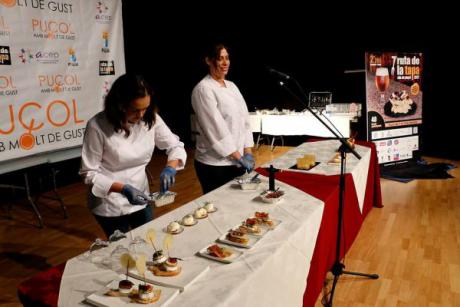 The Route of la Tapa in Puçol has been celebrated for seven years now with the good work of the Agrupación de Peñas of Puçol and as an essential part of the festivities of the municipality. 2,20 euros and you will receive a drink and a tapa in exchange, even offering a version for children. Families from around the world, you are welcome with your kids.

The tapas take part in a contest, so you can imagine the creativity that the 40 local participants put to work. This year, they will honour the 'pilota dolça', a cake which used to be baked during the festivities, and there will be three awards for the tapas which get more votes from the public and, simultaneously, some prizes donated by the sponsors of the route will be raffled among all the neighbours who have entered their route passports.
You are in Puçol (Valencia), between the sea and the mountains. The municipality opens to a mountainous zone in the West: the Paraje Natural de la Costera, a forest zone of big beauty, representative of the Mediterranean ecology. In the centre, on the plateau, surrounded of orange trees you find the urban area: squares, parks, gardens and neighbours who welcome the occasional traveller and the one who decides to stay. To the east you find l'Estany, way out to the sea of the marsh dels Muslims, a protected swamp which is a nesting area for different species of birds. And the new beach, with white sand, protected by breakwaters and with a modern maritime walk. Puçol calls the attention by the harmony of the streets and by the balance between the Mediterranean colour of his beach, the hospitality of the people from the orchard and the quietness of the mountain.