Ontinyent struggles between Christians and Saracens
Publishing date 18/08/2014
The taking of Tetuan by Spanish troops and the gratitude of the village to the Cristo de la Agonía marked the beginning of the Moors and Christians festivities in Ontinyent, in the year 1860; ever since, these festivities have been held surrounded by pomp and circumstance.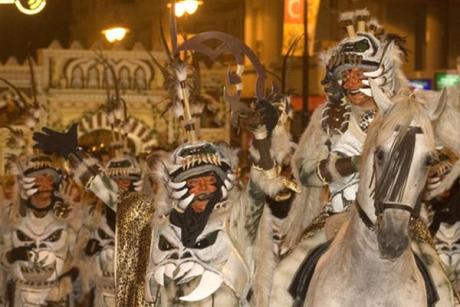 The festivities of Ontinyent, which have nowadays become one of the most important events in the heritage of the Vall d'Albaida and the Valencia Region, are always held on the fourth week of August, this year, between Thursday 21 and Monday 25.

Over time, this festivity, which was initially exclusively guided by men eventually modified its statutes and regulations, welcoming women as fully fledged participants and increasing the number of companies on each side to up to twelve. They are the Sailors, Buccaneers, Studants, Guzmans, Archers, Crusaders, Smugglers, Fontanos, Almogàvers, Astures, Llauradors and Cides on the Christian side. On the Moorish side are the Taifas, Moros Espanyols, Moros Berberiscos, Chanos, Omeyas, Benimerins, Abancerrajes, Kábilas, Moros Marinos, Saudites, Mudéjares and Mossàrabs.

The Christian army enters the village of Ontinyent on Friday afternoon, headed by the Captain and his troop, and commanded by the Ensign and the Ambassador. On that same night, the army of the Crescent, as did the Christians during the afternoon, occupy the avenues of l'Almaig and Daniel Gil, displaying their luxurious dress uniforms, majestic chariots, horses, camels and dances...

Thus begin the festivities of Ontinyent, which last until Monday. Come and enjoy the musical bands, the Moorish and Christian parades, the embassies, dianas, chariots and choreographies of a festivity that is well over a hundred years old.