Tanned Tin 2013: The first festival of the year in Castellón
Publishing date 4/02/2013
This week, from 7 to 10 February, Castellón is hosting Tanned Tin, the quintessential winter festival with the best and most eclectic line-up in its entire 15-year history. Come to the city's Teatre Principal to see new bands, be thrilled by the most adventurous forms of pop, rock, folk and avant-garde music and get a close-up view of the future stars of the indie scene.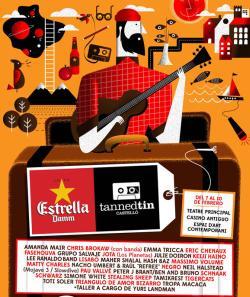 Tanned Tin is the quintessential winter festival, the first of its kind to be held successfully without a break for more than a decade. The festival remains true to its indie roots in putting together the line-up and has no hidden agenda other than its artistic aspirations. The event occupies a single space (the Teatre Principal) where you can listen to music of unrivalled quality in the comfort of this attractive venue. And with the added bonus of the artists' relaxed attitude and willingness to mingle with spectators during the event.
Tanned Tin remains true to its philosophy of presenting a programme packed with future stars of the indie scene, names that may not sound familiar to the majority of audiences or the media but that in a few months' time will be topping the bill at big festivals. It was at Tanned Tin where today's top artists like Antony & the Johnsons, Deerhunter, Okkervil River, Final Fantasy, Deertick, Beach House, The Decemberists, Xiu Xiu, Animal Collective, CocoRosie and M.Ward played their first gigs in this country.
Tanned Tin is a small-scale festival focusing on quality, where performances never overlap. With a programme featuring more than 30 concerts, it concentrates on acts that have never performed live before, collaborations between musicians from different bands and special one-off reunions that can only be seen at Tanned Tin.
Tickets are on sale at 55 euros, plus administrative charges, and you can check out the programme on the website www.tannedtin.com