Inland areas of Castellón hold two truffle-themed events: the X Mostra de la Trufa Negra dels Ports-Maestrat and the II Jornadas Gastronómicas de la Trufa
Publishing date 28/01/2013
Winter is here, and the highly-prized black truffle is now in season. Discovering truffles is easy, all you have to do is venture into the interior of Castellón, where the truffle, one of the main treasures of local gastronomy, is taking centre stage. Over the next few days, you can visit the "X Mostra de la Trufa Negra dels Ports-Maestrat" (10th Ports-Maestrat Black Truffle Show) and the "II Jornadas Gastronómicas de la Trufa" (2nd Truffle Gastronomy Days), two events encouraging you to visit the interior of the province of Castellón and, naturally, to try this highly-prized delicacy.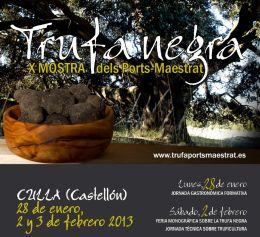 This year's "X Mostra de la Trufa Negra d'Els Ports-Maestrat" is being held in the town of Culla on 28 January, 2 and 3 February. Over the ten years the show has been held, it has become a major event not only for the truffle culture but also for lovers of good food.

Black truffles are attracting increasing numbers of devotees, which is why this event has been so popular for ten years, giving fans of this fungus the chance to attend technical sessions, product tastings, workshops, gastronomy competitions, dog truffle hunting contests and exhibitions.

Plus, this year the organisers have designed a web site where anyone who is interested can search for information and even register using an online form.
The "II Jornadas gastronómicas de la Trufa 2013", an event held in Albocàsser, Benassal, Catí, Culla and La Serratella, is also due to take place in February, on 2-3, 16-17 and 23-24. In this second year, restaurants from the towns of Albocàsser, Benassal, Catí, Culla and La Serratella present their delicious menus based on the wonderful aroma of our native truffles.
Establishments in these towns will be giving visitors the opportunity to acquire fresh truffles and tasty food products made with this exquisite delicacy.
By trying some of the menus featured as part of the "II Jornadas Gastronómicas de la Trufa" you'll be able to enter prize draws for holiday breaks in rural accommodation across the province of Castellón. An incentive (...if you needed one) for not missing this delicious event.