February, an ideal time to go hiking
Publishing date 11/02/2013
The mild climate in the Comunitat Valenciana, even in winter, makes February a perfect month for hiking enthusiasts and nature lovers. Get your rucksack ready, put on some comfortable footwear, wrap up warm and enjoy some spectacularly beautiful countryside in the inland areas of Alicante province at this romantic time of year and with the almond blossom in full flower!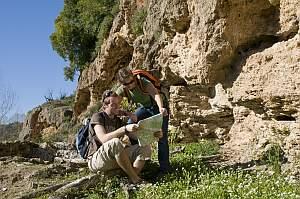 The Comunitat Valenciana offers a wealth of ideal places for hikers, cyclists and anyone with an interest in nature and the countryside to enjoy themselves all twelve months of the year. A good choice might be Ruta dels Monestirs (monasteries route), the Serra d'Irta mountains, Vall d'Ebo, Vall d'Alcalà and Vall de la Gallinera, all with beautiful scenery to amaze and delight you.
But if you're looking for the ideal route for this time of year, we recommend Vall de Pop, where the almond trees are coming into flower and the landscape will be looking stunningly pretty.
Known as a valley of cultures, it is home to one of the world's most important cave paintings, the Plà de Petracos cave site. The valley also has a total of 6 museums, which aim to explain and pass on the traditions and lifestyles of the people who lived in Vall de Pop.
This week we invite you to come and see this valley by registering for the guided walk taking place on Sunday 17 February and giving you the chance to see the almond blossom, ancient carob trees, the Coll de Rates and the medieval tower for yourself. The walk leaves Alcalalí at 9 in the morning.

For more information and registration: www.aestas.es
Information about Vall de Pop: http://www.valldepop.es