The Alto Palancia holds its 16th Gastronomy Event
Publishing date 12/02/2013
All through February, the Alto Palancia region in the province of Castellón, will be holding its 16th Gastronomy Event. The event has become an essential fixture in food lovers' diaries.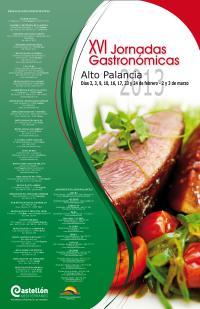 This year 26 restaurants spread across fourteen towns in the Alto Palancia region are getting involved in this event, which will be running every weekend in February plus the first weekend in March. Restaurants taking part produce delicious menus using locally-sourced products, at prices that vary from 18 to 35 euros; three of them will also be offering children's menus for between 6 and 8 euros.
Products from the Alto Palancia region make up the basis of these dishes combining tradition and latest trends in equal measure. The aim is to bring the region's own range of recipes to customers keen to try Alto Palancia cuisine.
Apart from being able to try the fantastic dishes from the Alto Palancia repertoire, visitors coming for the event also have the chance to explore local villages and the surrounding countryside.
Come to the Alto Palancia in February and discover amazing gastronomy!