Oil Gastronomic Sessions in Montán and Montanejos
Publishing date 18/06/2014
The Alto Mijares region in Castellón, which is dotted with rivers and water and rich in the variety of crops that are later transformed into famous products, will host the Montán and Montanejos Oil Gastronomic Sessions from June 7 to July 27. Six restaurants in these towns will participate in the preparation of different menus based on the "Temprana de Montán" variety of oil.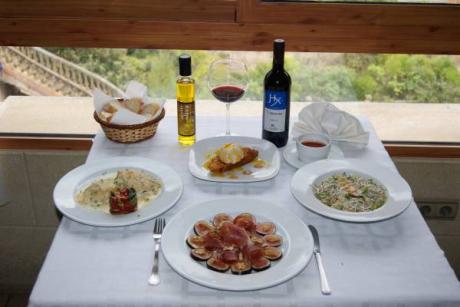 The "Temprana de Montana" variety is unique to Spain one of the first varieties of oil to mature. It has specific characteristics as well as a large concentration of healthy polyphenols. Over the course of the sessions, on Saturdays, from 5PM onwards, you may visit the Montán Co-op and see how this variety of oil is produced on the spot.
Venture into the bowels of these landscapes from which water bubbles to the surface, feel the water softening your skin; have a swim in the river and, after the different activities that can be carried out in these beautiful landscapes, once you're feeling hungry, taste some of the succulent dishes on offer, such as: sirloin bites with olive oil with truffles and sautéed mushrooms, accompanied by a vegetable, greens and codfish salad, with a balsamic vinegar, honey, oil and mustard vinaigrette, followed by a peppermint ice cream made with virgin olive oil and chocolate.
So come on over to Montán or Montanejos, where all generations will find something that suits them: intrepid, risk-seeking youngsters and people of all ages seeking the peace of nature and well-being produced by its waters and its products, which are carefully grown and lovingly prepared.