King Jaume I re-conquers Llíber during the Medieval Fair
Publishing date 13/03/2017
The Medieval Fair in Llíber will be held on March 25 and 26, and it will feature shows based on the Reconquista carried out by king Jaume I.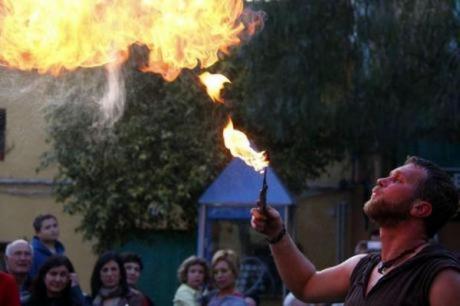 On March 25 and 26, the Medieval Fair will return to Llíber with parades, shows, music, arts and crafts, magic shows, medieval tournaments, eastern dances, a falconry workshop and many other activities designed by and for spectators. This historical re-enactment, in the splendid old town centre of this town in Alicante, is bound to leave any visitors wishing to delve into the Medieval Period speechless.

In the market, the Dragón Negro group will perform shows based on the subject of the Reconquista carried out by King Jaume I and his warriors, with re-enactments of struggles and battles. At the camp, visitors will be able to see the soldiers training for war with sparring, spear fighting, archery, and explanations on the Medieval art of warfare and the weapons used at the time.

Deep within the Vall de Pop, Llíber is located in a privileged enclave by the river Gorgos. Apart from the vineyards that adorn the local district, you will also find Iberian archaeological remains, specifically in Aixa. This town was populated by Muslims during the Middle Ages and the Renaissance. The culture of this town is as deep as its history and its landscapes, where the Pla de Llíber and the mountains form a beautiful and harmonious combination. This is a place that never fails to impress.