Travel to the center of the Earth from Sant Josep Caves in Castellón
Publishing date 2/03/2017
In the Sant Josep Caves, located in the Vall d' Uixó, is the longest navigable underground river in Europe, a perfect spot for kayaking.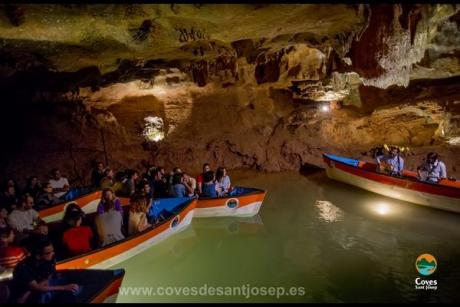 The underground river in the Sant Josep Caves, located in the natural park of the same name, is a natural cave of great beauty in the Castellón town of La Vall d'Uixó. A boat trip along the longest navigable underground river in Europe is one of the most extraordinary activities that the Region of Valencia has to offer. For thousands of years, the water has been shaping the spectacular stalactites and stalagmites, turning your visit into a travel in time imbued with the atmosphere of the Jules Verne's novel Journey to the Center of the Earth.

The site is located inside Espadán Sierra Natural Park. The cavity emerged through the erosion of limestone during the Triassic Age. One of the most interesting things about this special place is that neither the source of the river nor the end of the cave, which maintains a constant temperature of 20ºC throughout the year, has been discovered. The visit to the cave includes a pleasant boat ride with a guide who will lead you through the more than two kilometers that have been explored up to now.

In addition to the boat trip, there are music performances, leisure and recreational areas and a coffee shop for your enjoyment. Very recently, the Sant Jose Caves also began offering cave kayaking. An activity for the most fearless tourists, it is a great way to appreciate the natural beauty of the Sant Josep Caves from a totally different perspective. The kayak trip lasts about an hour and a half, covering 800 meters in kayak and 250 meters on foot through the dry gallery. Without a doubt, this is an exclusive experience in a unique setting.