Market of the Middle Ages in The Nucía
Publishing date 29/06/2017
The second weekend of July the ancient city center of La Nucía will transform itself by thirteenth time into a noisy market from the Middle Ages. More than sixty authentic artisans have reserved space to sell what have done by hand. Are you going to miss it?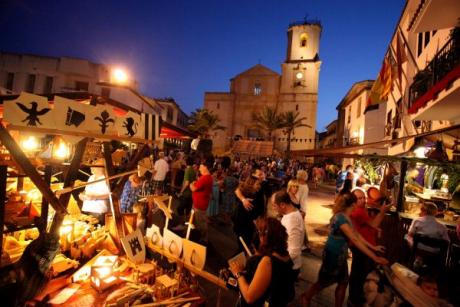 La Nucía in Alicante will celebrate again its Mediaeval Market from 7th to 9th July.

The Town Hall square and the streets around it will be full of places with a big variety of craftsmanship of quality and design: ceramics, shoes, bags and belts, glass, jewelry and costume jewelry of design, carved wood and sculpted stone, handmade soaps and perfumes, bookbinding, patchwork and much more.

In the gastronomic field, you will be able to taste and buy handmade cheeses and stuffing, nuts, bread and sweets. Approach the pulpería, to the tent with Arab food or to the mediaeval tavern, they will prepare a whole grilled pig for you!

To complete the mediaeval atmosphere, there will be minstrels, falconers, storytellers, Long-legs, buffoons, page boys, beggars and other characters from Medieval Times will visit the streets and corners of the market. And for the children there will be a miniclub with mediaeval games, a workshop of face painting, and a wooden merry-go-round. It is highly advisable to contemplate some of the artisns showing their skills on site and even, inviting the public to participate.
La Nucía is a privileged place on a crossroad between the sea and the mountain, only nine kilometers from the beaches of Benidorm and Altea. You must visit el rastro, stroll along the village streets and visit the Llavador, drink water in the Font of the Favara, see the hermitages and discover its gastronomy.