Travel to the Iberian-Roman era in Forcall
Publishing date 8/06/2016
In this town in Castellon, Forcall, people recreate the lifestyle of their ancestors during the 18th and 19th of June, at the IX Feria Ibero Romana in Lesera.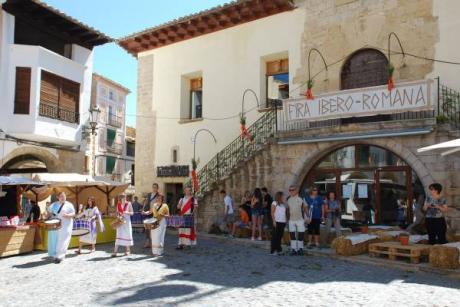 On the 18th and 19th of June, Forcall, a town in Castellon, will travel back in time to the Iberian-Roman times. Lectures, publications, exhibitions, handicrafts market, historical recreation activities, mythological characters, music, workshops, and many more activities will be in charge of livening up your visit to the IX Edition of the Feria Ibero Romana in Lesera. Of course an event that will provide images and absolutely extraordinary moments; from another time.

In the municipality of Forcall is the site of Lesera, one of the most important Roman cities in Castellon. Being this a tunnel into the past, the population has been concerned to recover and recreate the way of life of their ancestors. The IX Feria Ibero Romana in Lesera tries to disclose, recover and enhance the wonderful heritage of a magical place. The excavations establish that occupation from the Bronze Age until the midst of the Andalusí period. Although it was in Roman times when it reached its peak as a city.

Some of the remains of the site can be visited in the museum collection of Forcall. In the main square of the town will be carried out most activities of the fair. Also, you can enjoy the architectural beauty of the Church of San Miguel, the street "Pelota", the oven of Vila from the 13th century or the spectacular landscaping offered by an enclave located 720 meters above the sea level and surrounded by the Muelas de la Garumba, San Marcos, Roca Roja and Mola de Sant Roc, and the Caldés, Cantavieja and Bergantes rivers.