The Santantonada in Forcall, an ancestral festival of fire
Publishing date 11/01/2016
Between January 15 and 17, the town of Forcall, in the region of Els Ports, celebrates the Santonada, a Medieval fire festival. These ancestral festivities oscillate between sains and devils, tradition and fin, yearnings and aspirations…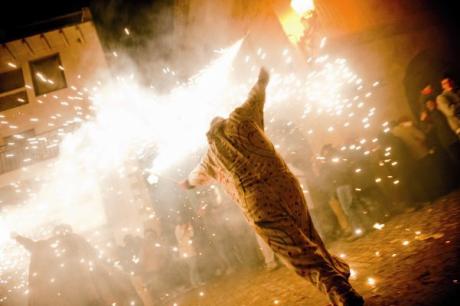 The Santantonada is the fire festival par excellence in Els Ports, and it is held when the cold freezes over the fields and darkness covers the land. It is the Medieval festivity of purifying fire in which Saint Anthony and Saint Paul participate, as well as other characters, such as el despullat and the botargues (demons), cremallers (in charge of lighting the bonfire) and filoseta (one of the temptations of Saint Anthony).

Early in the morning of 15th January the Despertà announces that begins Santantonada. From this moment, the different events take place: the maio or backbone of the stall is planted, the costelles (ribs) are nailed, it is dressed in branches and the capolleta (top), covered in firecrackers, is put in place. The stall is finally ready.

After the arduous task of setting it up, at night, the Santantonada committee goes through the streets of Forcall. At eleven at night, the committee reaches the square and proceeds to light and burn down the stall, a task carried out by the cremaller of honour, with the intervention of cremallers and participation by the despullat, filoseta and the botargues, demons in charge of dragging the saints to the fire.

The botargues run and dance around the bonfire with Saint Anthony inside when, suddenly, to the sound of oboes, the demons are defeated by the power of good and Saint Anthony emerges, triumphant. A veritable explosion of saints, demons and fire in which people can participate, going through the stall as it burns.

Next, the processó dels matxos takes place, a parade that goes through the streets of the town, passing by a church, where the animals are blessed and a coqueta de mitja lliura, a delicious pastry typical of Forcall, is collected. Finally, to end the day, the people collect around the embers of the stall for a late night snack. On the following day, there is a solemn mass dedicated to the Saint, followed by a procession.
On Saturday, dedicated to the Saint, pipers and drummers starts to play at 8:00 am. Afterwards, there is a Mass and a procession in honour of Saint Anthony the Abbot and typical pastries are distributed. In the afternoon it is time for sowing and enjoying the theatre play on the Life of the Saint.

On Sunday morning there is a traditional meal with roasted chops accompanied by wine, aioli, olives and bread. At noon there is another popular meal in Plaza Mayor. In the afternoon it is time for the traditional games such as races, pot breaking games or botets.