Falles in Elda, a mix of traditions from Alicante and Valencia
Visiting the Fallas in Elda means living the very essence of the Falles in Valencia and the bonfires in Alicante, as this tradition is fed with touches from both popular celebrations.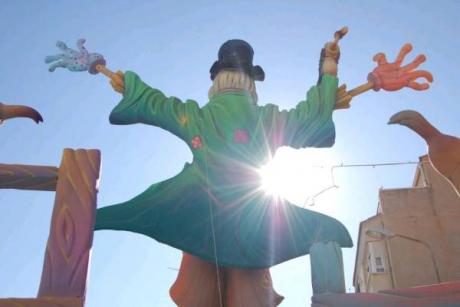 The Falles in Elda are held the weekend after the Major Festivals in town, offering something unique that makes the celebration different from the rest. The Falles appeared for the first time in 1929 due to a popular initiative and have been cheerfully celebrated since on Thursday, day when the Plantá takes place. On Friday the streets awake full of colorful monuments that give life to the city. For four days many events are held, such as the choice of the pardoned Ninot, which means that it will not burn, the prize-giving to the commissions organizing the Falles, the floral offering to the patron saints (Saint Crispín and Saint Crispiniano) and the Procession.

The Cremá is the most thrilling moment of the festival. On Sunday midnight, just after the Procession, the citizens burn the first of the Falles, the official one in the Plaza de la Constitución. The rest of Falles are successively burnt until they reach the winner of that year, which is the last Falla to be burnt. With it comes the end of the celebration but it also means the start of a new year of work and dedication to prepare the festival of next year.

Visiting Elda means travelling to the place where women's footwear was born, living its traditions and getting to the very bottom of the city. Apart from the women's footwear and its wonderful views, the festival is really attractive for anyone desiring to visit this welcoming city. Are you going to miss it?