GUADALEST CASTLE
Publishing date 8/02/2016
Guadalest Castle gets its name from the fact that this beautiful castle rules over most of the urban area in this town. This municipality is located in the province of Alicante, 23 km away of Benidorm in the region of Marina Baja and 595 high in the Valley of Guadalest.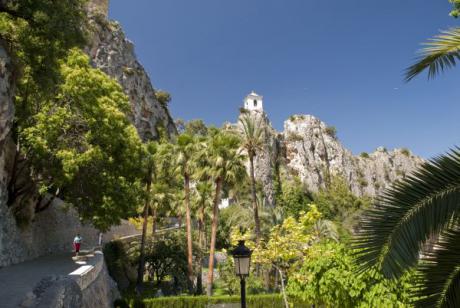 Surrounded by the mountains of Aitana, Xortà and Serrella, this castle is as surprising as it is spectacular. It is placed in a magnificent natural setting with an outstanding lake. It was built in 1964 and collects the water coming from Guadalest river, which is an affluent of the Algar river and crosses the region from the west to the southeast. It supplies Guadalest and other neighboring municipalities such as Altea, Polop, La Nucía, Callosa or Benidorm with water.

Guadalest Castle has been declared Historical Artistic Site and the walls are protected by a decree for Spanish castles. This little town has evolved from being an eminently agricultural municipality to become one of the main tourist destinations in the province of Alicante and, of course, of whole Valencia Region.

It is a very small town full of shops with local products and souvenirs, handcraft markets, bars and seven really interesting private museums. Apart from the magnificent Castle, the charm of the place lies in its steep and narrow streets and its stone walkways to the top of the valley.

Guadalest offers a rich and varied gastronomy to visitors. The restaurants and bars in town will delight us with national or international recipes and traditional dishes done with the best local products. A real pleasure for anyone who enjoys good food.

Visit Guadalest and let yourself be impressed by this wonderful town.