Culla gallops on the back of a thoroughbred steed
Publishing date 7/07/2014
Culla, located in the Alt Maestrat region, will be the place to be this weekend for lovers of horseback riding thanks to its traditional Concentration of Horses. Contests, horseback tours or a meeting of blacksmiths... come on over at full gallop and discover Culla.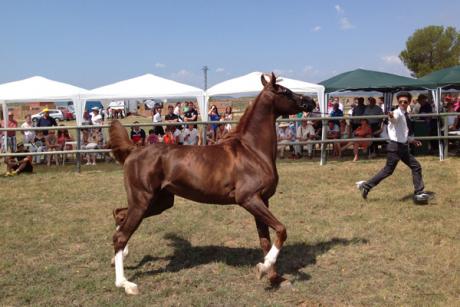 The Concentration of Horses in Culla has become the equestrian capital par excellence. The eighth edition of this contest will be held on July 12 and 13 in this historical location of the Alt Maestrat.
Among the programmed activities are an exit of the horses towards the Riu sec area, the blacksmith meetup and a demonstration of their trade, as well as the classic National Morphological Pure Arabic Thoroughbred Contest. Furthermore, guild meals, dances, children's activities and a broad variety of activities have also been planned.
After the resounding success of the meeting of Blacksmiths in previous years, some of the best smithies in the country are back for one of the most anticipated events in the meet-up. The participants, who are committed to preserving this thousand year-old craft, will display their skill to forge horseshoes live and in little time, and their skill in putting shoes on horses.
On Sunday, the session begins with the V National Morphological Pure Arabic Thoroughbred Contest, which in other of the foremost attractions of this event, as it allows you to see some of the finest specimens of this breed of horse live. For the second consecutive year, Doña Teresa de Borbón, the first cousin of Don Juan Carlos I, is the titled judge of the contest, which has earned its spot as a national reference and an essential tool for breeders of this type of horse.