Moros y Cristianos in Crevillent, new Festivity declared of International Tourist Interest
Publishing date 3/11/2017
There is a new Festivity of International Tourist Interest! In Crevillent the Festivity of Moros y Cristianos has been celebrated for more than 50 years, bringing together tradition and beauty.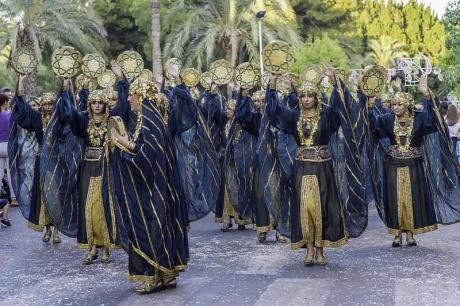 In Crevillent and in the Region of Valencia, we have a reason to celebrate; because we have once more managed to show the appeal of our festivities. The Festivities of Moros y Cristianos in Crevillent, with more than half century upon their shoulders, have been awarded the distinction of Festivity of International Tourist Interest. Recognition to those festivities or events which are cultural display for the cultural values and popular traditions, with special consideration to the ethnological characteristics and which are relevant as a tourist appeal.
Some of the features which have taken into account are the adhesions, the details of The Festa, the embassies and the texts, the tourist offer in Crevillent, the works of Julio Quesada, the history of the comparsas, the Casal Festero, the guarantee of the mantenedores and the impact in the different mass media. All these events are the reasons why each autumn the village of Crevillent shines with a special glamour. Lights, colour, gunpowder, music and the beauty of the Festivities of Moros y Cristianos catch the attention of locals and visitors.
Here, there will be no winners or defeated ones. Here, we can only find history, culture and festivities. And many other places for you to visit. Crevillent is waiting for you with an ancient centre with a Moorish ambiance, with intricate streets and narrow sidewalks, attractive routes and footpaths, artistic and musical demonstrations and also museums. The "cave houses", the parks and gardens, the gastronomy, the natural places like El Hondo - one of the most important wetlands in Spain - and the carpet making industry, are some others of the local appeals.