We walk along the paths leading to the magic mountain: the Penyagolosa
Publishing date 13/09/2017
Free guided routes in historic centres and cultural routes which give us the opportunity to enjoy attractive and original visits to the municipalities which make up the ensemble dels Camins del Penyagolosa bid to UNESCO World Heritage. Fall in love with these unique locations!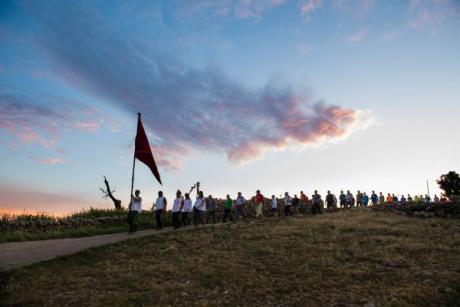 In the inner part of Castellón, in the foothills of the impressive peak Penyagolosa; there, we find the sanctuary dedicated to Saint John the Baptist. A unique place, full of mystery and destination of pilgrimages which have been taking place since times of the Christian Reconquista. These pilgrimages were conformed as a unique feature, tracing paths from different towns up to this core centre, with customaries and rituals for each one of them.

Weekends in September and October, you will be able to visit the historic town centres, the wine cellar, mills, museums, unique landscapes, old workshops and much more. In addition to the religious and mystical sense, these routes have been important routes of communication as a channel of human activity and paths for dialogue among people, with an important archaeological, ethnological, ecological and architectural heritage.

Write it down on your diary: On Saturday 23rd September in Villahermosa del Rio there will be a guided tour along river Carbo, the former flour mill and the Masia Roncales. It will be a unique opportunity to explore the streets and historic centre of the town, the historic buildings, the paintings from the 15th century and the centre of reproduction of salmonids.

On Sunday 24th September in Castillo de Villamalefa, there will be a guided tour through the historic district, the Almazara (the mill), the old baking oven and the Alto del castillo. In the afternoon, scape to the Mas Quemao and Masía de la Granella.
Although the programme of activities is really extensive, we will finish this review in the commune of Ludiente , where 1st October, there will also take place a route with a visit to the House of the Marquis of Villahermosa, the old oven, the farmhouses of the Puebla, La Cueva Altaand the wine cellars.
Other details:
Comunitat Valenciana