Nudist beaches in Alicante
Publishing date 20/07/2017
The beaches in the Region of Valencia are bathed by the peace of the Mediterranean Sea, known all over Europe by its unmatched beauty and good quality. If you fancy the small coves and nudist beaches which will capture you, follow on reading.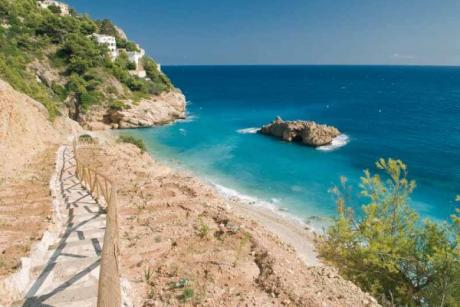 You have never visited a nudist beach? This summer leave you seduce by some of the lovely corners which I will introduce now. The beaches in Region of Valencia hold the record of the greater number of beaches bearing a Blue Flag. If you want to discover some of the lovely nudist beaches in the province of Alicante, here are some proposals.

Racó of the Conill is a calm cove situated in Vila Joiosa. Surrounded by mountains and with a difficult access way, it is located in very special surroundings. You can also access here from several routes on foot. They say that in the depths of the sea you will find natural beauties. The ideal place for the lovers of snorkeling. Besides, it is one of the more "gay friendly" nudist coves in Alicante. Thinking about visiting Racó del Conill? Find accommodation in the city centre of Benidorm, in the "gay friendly neighbourhood" and get suntanned in this lovely cove. You are only 30 minutes away by car.

Going to Cove of Moraig in Benitatxell means enjoying the blue turquoise colour of the sea and becoming impressed by its rock formation such la Falla del Moraig and la Cova dels Arcs. This last has an air to the famous Blue Window in Malta. Besides, this zone has a lovely easy route for hiking which goes round the cliff until getting to the next cove. If what you want is to relax and sunbathe, in this cove you will be able to have a refreshing cocktail in the chiringuito which is in the beach itself. Another unique destination which will surprise you.
Discover more beaches in the Region of Valencia! Quality, sun and good life to live a unique summer.
Other details:
Comunitat Valenciana