Dishes from Castellón to welcome the autumn
Publishing date 10/10/2017
The Mediterranean kitchen is one of the gastronomic wonders we are lucky enough to enjoy in the Region of Valencia. And more specifically Castellón offers some finger-licking good typical dishes you must not miss.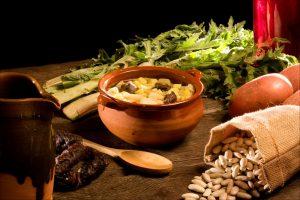 In your next visit to the Region of Valencia, now when autumn is coming and it begins to feel a bit chilly, the best thing to do is tasting the typical stews of Castellón to warm you up. We will present you the well-known spoon food dishes and popular pots so you can start tasting them.
Pot of cardets. With a base of thistles, chards and beans, l'olla de cardets is one of those spoon dishes inherited from past generations which, nowadays, is always present in the kitchen of a lot of Valencians, especially in winter. It is a traditional recipe and very typical in the villages of La Plana; it combines different legumes and vegetable ingredients, but the main ingredient - the thistle - is never missing.
Pot barrejada. The main ingredients of the olla barrejada are lamb meat, bacon and chick-peas. It is traditionally boiled in a pot or pan, very typical in the kitchen of Castellón in winter, served in these same containers or in small ceramic bowls.
Pot segorbina. The olla segorbina is a typical pot dish from the province of Castellón from the municipality of Segorbe. This stew includes bacon as its base and we can find two versions: made with thistle or with cabbage. It is done with saffron (getting the yellow colour so characteristic), white beans and different varieties of pork like the bones, the muzzle or the ear, and hardly ever black pudding with onion is missing in it. Besides, thistle or cabbage is normally added to the pot.
Pot of La Plana. This is one of the most traditional Valencian stews served in The Plana Baixa, situated in the south coast of the province of Castellón. The classical base for this stew is the same we find in many other stews in the Region of Valencia: vegetables of season like pumpkin, turnip or parsnip, and legumes like beans or chick-peas.
Olleta of bledes. The olleta de bledes is one of those traditional dishes from Castellón with the chards like main character. As the majority of the pots, it can be done with meat or only with vegetables, although it is more typical to combine both ingredients. Besides, they use green beans and a little bit of rice. The result is really surprising.
Pot of recapte. This typical dish from Morella, in the north of the province of Castellón, is cooked with vegetables, legumes, meats, and corned beef, the basic ingredient in this delicious dish with strong flavour, perfect for the autumn season.
Among the typical dishes in this land, it stands out the stews, quite an appetizing food for autumn. Why not coming and taste them?
Other details:
Comunitat Valenciana