Tots els Sants – All Saints festival in Cocentaina
Publishing date 27/10/2014
The Fira de Tots Sants de Cocentaina takes place thanks to a royal privilege granted by Peter III. It now runs throughout All Saints week, occupying over 700,000 square metres and attracting thousands of visitors each day. A grand event and great fun!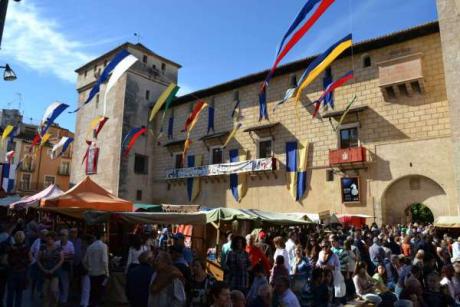 The festival is divided into various different areas. The traditional agricultural machinery section currently takes pride of place in the celebration, featuring a display of cars, trucks and machinery used in farming and construction. Other areas include an Arabian souk, a Christian market, an attractions area for kids and a livestock show.
The festival is the story of Cocentaina itself. It was first celebrated in 1346 with good reason, when the privilege was granted by Peter the Ceremonious (also known as Peter II of Valencia and IV of Aragon), and it has been held ever since, thanks to esteem for the land and the traditions of Cocentaina.
A new edition is held year after year, having reached this point over centuries, through plagues, epidemics, war, social conflicts, as well as times of peace and progressive. The passage of time has influenced the festival, and what used to be a regional agricultural and livestock market has become a showcase for the usual agricultural and livestock activities, together with the agricultural machinery and automotive fair, artisan crafts, Arabian and medieval markets, along with various other activities taking place over 3 days and uniting over 400 exhibitors from all over Spain.
The cultural and sporting events that demonstrate the festival´s capacity to get everyone involved are also highly worthy of mention. They include exhibitions, the book festival, singing contests, attractions for kids, equestrian shows, musical concerts, group dance performances, various street acts, juggling, demonstration workshops (metalwork, weaving, bulrush, baking, etc.) and falconry exhibition and shows.